GRANT WRITERS: SUPERHEROES OF FUNDRAISING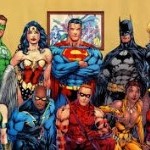 18 October 2014 /
Category:
Blog
Off comments
Today is the last day of the 16th Annual Conference of the Grant Professionals Association (GPA) in Portland, OR. It has been an awesome, jam-packed three days of workshops, networking, and learning with some of the best grant professionals I know. An attendee at GPA's national conferences since 2006, I find each year's event to be both educational and energizing. I always come away feeling inspired to write, strategize and develop new partnerships. However, it never fails that one comment comes up year after year and I feel inspired to address it. You already know what it is: "Grant Writing is About More than Writing!"
Just ask the general public (and even professionals who work alongside grant writers in the nonprofit and public sectors): What does it take to be a successful grant writer? Most will inevitably say strong writing skills, maybe even a knowledge of research techniques. However, those of us who work in this profession know that success requires so much more. Ask any writer what skill sets we use on a daily basis and we'll quickly rattle off the following:
Strongly analytical skills
Knowledge of budgeting and finance
Data research and compilation
Understanding of evaluation and outcomes assessment
Strong storytelling, logic and reasoning skills
Strong oral and inter-personal communication skills; and most importantly
Negotiation and mediation skills (usually applied to our work colleagues and clients who don't understand why a proposed program design makes absolutely no sense or why you can't stick an item in the grant budget that's totally unrelated to the purpose of the grant)
So, on this last day of the conference I feel inspired to say that grant writers are the super heroes of fundraising. Like Clark Kent (or should I more appropriately say Wonder Woman due to the heavy bias towards women working in this profession) we are often the quiet, unassuming professionals who are frequently misunderstood and often overlooked among our other development colleagues. However, our daily efforts raise the critical dollars that are the lifeblood of many organizations.
So as I prepare to depart Portland tomorrow, I feel compelled to shout out all of my colleagues here at the conference, as well as the countless others who are unable to attend this awesome professional development event due to limited budgets or even impending grant deadlines. If you work with a grant writer, tell her thank you, acknowledge her contributions, or start a petition for a grant writers appreciation day at your workplace. She deserves the accolades, so I intend to get the ball rolling. I love my fellow writers and I love the work that we do on a daily basis. So sometimes we've just got to toot our own horns, and honey, WE ROCK!!!
Kim Richardson is the President and Principal Consultant of Kimberly Richardson Consulting, LLC based in Birmingham, AL. A mother, author and grant writer extraordinaire, her passion is building organizational capacity for more effective service provision. Follow Kim on Twitter @KRC_Consult or Like her on Facebook at www.facebook.com/kimrichardsonconsulting.