Just a Chat with Kim Richardson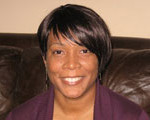 18 January 2012 /
Category:
News
Off comments
BIRMINGHAM, ALABAMA — Kim Richardson, 39, is a grant writing consultant and the owner of Kimberly Richardson Consulting LLC. The Cleveland, Ohio native lives in Roebuck Springs with her daughter, Imani, 12.
What brought you to Alabama? In 2002, I thought, 'I'm tired of this cold.' I moved here in 2003 and worked for the city of Birmingham in the Department of Community Development as a grants manager.
How did you start your own grant writing business? I had been doing grants consulting work since 2001. I did that until 2007, when I left the city and started my consulting business full-time.

What exactly do you do? I work with nonprofits, government agencies and faith-based organizations, offering grant writing services. I help them with fundraising. I work mainly on federal grants but I do all kinds of grants. I'm working on a book about grant writing. It will be self-published, I hope this summer.
How did you get into your field? I have a master's degree in Urban Studies and Policy Analysis from Cleveland State University. My first job was administering grants with the health department in Cleveland, and it was funded by federal grant money. Every year we had to reapply for that grant.
What do you like most about your job? I'm continually learning.
What do you not like about it? I think the fact that I'm working from home. It's isolated and it can be like being in a vacuum. If I don't make the effort, I can become a hermit.
What do you do in your spare time? I like to read, a lot of nonfiction. And recently I've taken up riding a motorcycle.
Why a motorcycle? A girlfriend and I have talked about it for years. I bought a Honda Shadow at Christmas; my friend is still looking. The more I read about it and meet folks who ride, I learn more about it. There seems to be more motorcycle riders out there than you can imagine.