Kim Kardashian: A Case Study for Writing SMART Objectives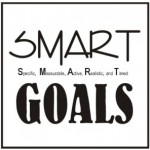 17 November 2014 /
Category:
Blog
Off comments
Well the Kardashians are at it again! This time it's Kim who has flooded the internet (once more) with images of her bare body. Her goal: To Break the Internet! Now I'm sure your immediate thoughts are "what the heck does this have to do with grant writing?" Just keep reading.
As a grant writer, I live in a world defined by goals, SMART objectives and measurable outcomes. A common saying in this line of work is "what isn't measured, doesn't count!" So of course, it's my analytical nature when I see such a vague and ambiguous goal to think, "how exactly do you determine when the internet has been broken?" So, lets use Kim's ambition as a case study for preparing a grant proposal. Here's how I imagine it would go:
Agency: Kim Kardashian's Institute of Narcissism
Program: World Domination through Gratuitous Nudity
Primary Goal: To Break the Internet
Objective 1: To cause the immediate crashing of the world wide web in the first hour (60 mins) subsequent to the posting of Kim Kardashian's nude photos by Paper Magazine
Anticipated Outcome: To increase by 100% attitudes and feelings of resentment and anger towards the entire Kardashian family
In assessing this lofty goal, any reasonable reviewer of this proposition would conclude that this initiative is not worthy of funding or replication. Although measurement tools would reveal that her images flooded the internet and trended on Twitter, final assessments would determine that the project was successful only in the fact that it did not accomplish what it set out to do. Thankfully, there has been uninterrupted access to the internet and no reports of mass outages in the U.S. or otherwise (a great relief to those of us with looming grant deadlines).
Kim K. might be a reality TV star, but Break the Internet? She not only needs a reality check, but a lesson in setting realistic goals and objectives. Next time around, maybe she should have a good grant writer on her team. Somebody send her my number. My rates are reasonable!