Now What: The Quandry of the Ice Bucket Challenge's Financial Windfall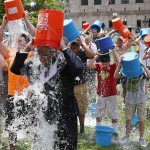 2 October 2014 /
Category:
Blog
Off comments
Unless you've been living under a rock, there's a 100% chance that you've heard of the ALS Ice Bucket Challenge that recently took social media by storm. In essence, participants issue a challenge to individuals of their choosing giving them the option of making a donation to the ALS Association or posting a video of them having a bucket of ice and water dumped on their heads. This current media sensation is living proof that Americans love a challenge and even high profile celebrities like Oprah Winfrey, Lebron James and Steven Spielberg are getting in on the fun.
What no one could have predicted, however, is that this simple fundraising challenge would go viral. As of the writing of this article, the ALS Association has confirmed receipt of $115 million in donations since July 29th (that averages nearly $2 million per day). It's the equivalent of hitting the fundraising lottery! So the important question now is: What does an organization do when faced with such an unexpected financial windfall? Here's what I suggest to get started:
Prioritizing Accountability and Transparency – When an organization suddenly gains over three million new donors and raises over nine figures in 60 days, the need for accountability and transparency is more important than ever. Otherwise, it's just a small leap from being a hot, trendy organization one day to a scandalous frontpage story the next. Any organization experiencing a financial windfall must, first and foremost, maintain the public's trust by clearly communicating how the dollars donated translate into benefits. Several standards exist and a quick review of the ALS Association's website shows that they're currently demonstrating a high commitment. Efforts include: a) Posting the annual report for their most recent fiscal year, as well as the two prior fiscal years; b) Posting a link to their most recently filed 990 Form; c) Posting their most recent Independent Financial Audit; d) Providing a summary of expenditures as a percentage of the annual operating budget; and e) Using a variety of tools (i.e. newsletters and social media) to maintain communication and keep donors informed. An organization's failure to take such steps will ensure that first-time donors will be one-time donors.
Staying on Mission – An organization's mission is its reason for existing. However, a sudden financial windfall could easily lead to mission creep (i.e., a tendency to stray from the things the organization is clearly committed to doing). As a result, everything an organization does (e.g., programs, services and activities) must be viewed through the lens of whether it fits within the scope of its mission, and the mission statement should always be clearly written and easily identifiable by the public. A financial windfall is a means for accomplishing the mission through enhanced or expanded services, but never a justification for straying from it.
Looking to the Strategic Plan – Vibrant and sustainable organizations tend to have gone through the effort required to develop a Strategic Plan, a planning document establishing the goals and priorities of an organization usually over a three to five year period. A strategic plan not only establishes organizational goals, but also measurable objectives for determining progress towards meeting those goals, timeframes for completion and strategies for achieving them. When reviewed regularly, this plan becomes a roadmap that guides the efforts and activities of an organization. A windfall definitely provides the option of accelerating plans and expanding services. However, all efforts should still be guided by a roadmap.
Right now you're probably thinking, "well isn't what you've just described what all non-profit organizations should be doing?" My answer is a resounding YES! An unexpected financial windfall definitely provides an organization with options that it did not previously possess. It's an opportunity to think creatively and maybe even take a few outside-of-the-box styled risks that administrators had previously not even dared to pursue. What it is not is a green light to stray from the basics. High transparency and accountability, mission-focused operation and strategic implementation will always be at the heart of any effective organization.
Earlier this year, I attended the kickoff meeting of the NFL Former Players Association's newly formed Alabama Chapter. During that meeting, I had the honor of meeting Kevin Turner, a former player for the New England Patriots and the Philadelphia Eagles, who is also suffering from ALS. He is the first person I've met who is living with the disease and he established a foundation dedicated to raising awareness and supporting efforts to study, treat and ultimately cure the disease (www.kevinturnerfoundation.org). It is his face that I think of when I view yet another ice bucket challenge, and in all truth, it is always the faces of the people served that are the true measure of success for any human service organization. Yes, dollars raised can be one measure of success, but the ultimate determinants are how many lives are positively impacted, how many lives are made better and how much suffering is alleviated.
That, my friends, is the point of it all!