SIX TIPS TO JUMPSTART YOUR GRANT WRITING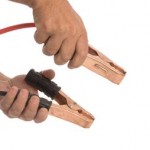 After nearly 20 years of working with grant funded programs, I can definitely count myself in the "not so old pro" category. Most of my training these days involve advanced topics like federal grant opportunities and outcomes measurement. However, the truth of the matter is that there will always be a large segment of the population (here in Alabama and elsewhere) that is still looking for info on how to get started with grants. This truth is evident in the calls I regularly receive from individuals asking about grants for business start-up (which don't exist by the way) and from those looking for assistance with a federal application when they haven't even received their first local award. So this week's blog is for the individual who doesn't have a clue about where to start.
My top six tips for grant writing newbies are:
Focus on Your Mission – Be very clear regarding your mission. It's the reason why your organization exists. Requests for funding should always support the furthering of whatever it is that you seek to impact in a positive way.
Do Your Research – Success in securing grants starts with doing your research and identifying the funders whose fields of interest, geographic target areas and other funding criteria match yours. The closer the fit, the increased likelihood that your request will be well received. A variety of tools exist to support your efforts such as the Foundation Center's Online Directory and Guidestar.
Start Local – If you've not yet been awarded a grant of any kid, start out by seeking funding within your immediate community. Seek investment from your local community foundation, family foundations, and corporate foundations. Establish a track record of success with these funders and grow from there.
Seek Funding for Programs and Services – Funders are looking to make an impact, so your request for support should be for ongoing programs and services whose results can be measured. Requests for events and activities such as banquets and support for athletic teams are typically not eligible and most funders will clearly say so on their website. Carefully review each foundation's guidelines to see what types of requests are allowable.
Customize Every Grant Proposal – Shotguns are good for … well I'm not exactly sure what they're good for (being a city girl who grew up in Cleveland, Ohio). But I know for absolute sure they're not good for sending out grant proposals. By this, I mean don't prepare a single proposal and shoot the same request out to multiple funders. Every foundation has a different set of criteria. Make sure you know what they are and customize every grant proposal you send out.
Get Buy-In from Your Board – Before asking for external support, make sure you first have internal investment. 100% of your board members and executive staff should be making a financial contribution to your organization annually. Get this buy-in first and be sure to note this accomplishment in your proposal.
Of course there are many more tips I can provide, but that's enough to get you started. For more information, go to the resources page of my website and be sure to sign-up to receive future blogs and newsletters. You can also click here to follow me on Twitter.