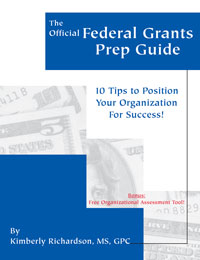 Get the Guide
After 17 years of working in the public and non-profit sectors, Federal Grants Consultant, Kimberly Richardson, has written the Ultimate Guide for non-profit executives, government officials, program administrators, board members and anyone else who is interested in applying for federal grants, but doesn't know where to start. The Official Federal Grants Prep Guide is an easy to read and user-friendly roadmap that offers simple language and illustrations to help you understand the application process and position your organization to win. Inside you'll find:
• Top Tips for Success
• An Organizational Assessment Tool to determine your agency's readiness,
• A Glossary to define all those confusing grant terms
• A wealth of other useful resources
So forget those other big binders and exorbitantly priced resource manuals. This little book is the one that you need!